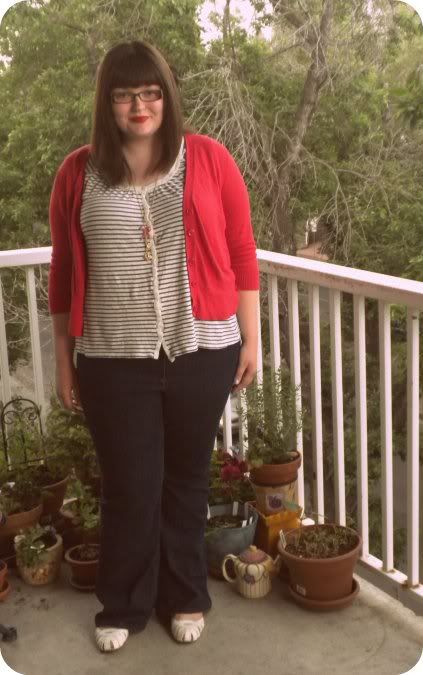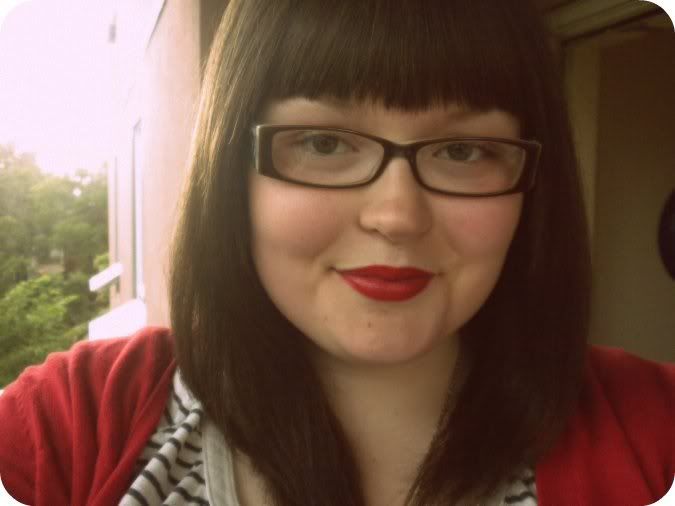 This look feels a bit different than usual. Theses are actually the first pair of jeans that aren't skinny that I've worn in years. These are the pull-on jeans from Penningtons in a size 20. They fit exactly like yoga pants, and have faux pockets in the front with real pockets on the back. They're the most comfortable jeans I own, and also the chicest.
I decided to give this shirt, size XL from the Gap, one last chance before I donate it to the Salvation Army. I really love the nautical stripes, but don't love it overall. My biggest problem is that even though it fits loosely, the buttons gap like no tomorrow. I'll definitely be donating it, no matter how cute it may be.
I made this necklace last night and this afternoon from items around the house. I've officially named it "Mixed Metals Romantic Cluster Necklace." I'll be adding some more charms once I get more jump rings. I went through my craft basket and collection of unworn jewellery and sorted out things I could refashion into jewellery. My creative mind is overflowing, and this summer I'm looking forward to refashioning second-hand jewellery, learning to sew and knit, upcycling, DIY, crafting, etc.
I'm not a big fan of red lipstick with braces, but this outfit really felt like it needed red lips.